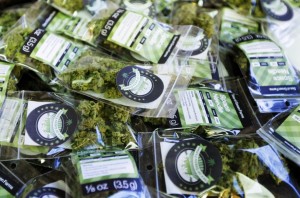 In February 2014, the Obama Administration gave the banking industry the thumbs up it needed to offer financing to pot distributors, as long as they legally conduct business. This decision was welcomed as a step forward for marijuana commerce. However, the financial system felt that it was too much of a risk to do business with companies whose products were still technically illegal under federal law.
According to The Washington Post, "Credit unions and banks are wary of running afoul of money laundering statutes by accepting proceeds from an activity considered illegal under federal laws. That has made it difficult for legal marijuana dispensers who must operate exclusively in cash, placing them at greater risk of being robbed."
To address this issue, some guidelines were implemented to make the process for the banking system more efficient and safe. There are now new rules concerning the notification of federal regulators when activity appears to be suspicious. There are three categories of marijuana-related reports in place to use in such situations.
The first category, "marijuana limited" is used when dealers are truly following the government's guidelines and ensuring that sales revenue is not falling into the wrong hands. According to Jennifer Shasky Calvery, the director of the Treasury Department's Financial Crimes Enforcement Network, the banks have filed 502 such reports since the change was issued.
The second report, the "marijuana priority", is used to alert regulators when a dealer's revenue is not coming from legal exchanges. The final category and report is the "marijuana termination" report; this report involves the relationship between the bank and the pot seller coming to a close. According to Calvery, 475 such reports have been filed.
Fortunately, services offered by high risk merchant account providers have made life much easier for these businesses as they struggle with the changes in the financial system that are moving slower than many hoped.
We can get your dispensary approved for merchant processing!