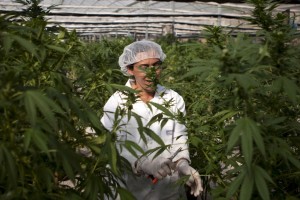 Colorado drew worldwide attention at the beginning of the year when marijuana use became legal, and a swarm of retail marijuana stores opened their doors to the eager public. Although the true figure of the shops' earnings are not yet known, it has certainly been made clear by numerous indications that they have made an impressive sum of money; enough so that those with marijuana merchant accounts are bound to be very happy indeed.
Earlier this week, NBC surveyed many marijuana retail stores in Colorado, and reported that 18 retail shops paid over $1.2 million in taxes to the state through January 27th. Clearly, this means that in only their first month of business, these stores made millions of dollars' worth of sales. Not only this, but according to shop owners, the demand in their recreational cannabis stores is still growing by the second. Plus, NBC made the estimation that the state could potentially collect approximately $100 million in cannabis taxes in 2014 alone. This would equate to hundreds of millions of dollars' worth of sales.
Many shop owners were present at the National Cannabis Industry Association reception in Denver this week, a lot of whom happy to share their personal opinions on the matter. One owner said that his store, which was opened to the public a mere fortnight ago, had seen sales rise by 300% compared to its medical marijuana revenue before the transition. Another, who opened his store on January 1st, said that his store has to be closed for a few days per week due to his inventory rapidly running out. Despite this, the store's revenue has still increased nearly tenfold compared to medical marijuana sales prior to the legalization of recreational marijuana use in Colorado. If this doesn't signify the sky-high demand, what does?
Although many shop owners are experiencing this amazing revenue in the short space of just a month, it is important to take into account that stores in small mountain areas of the state are probably taking in much less revenue. Plus, the NBC survey results serve purely as an estimate, considering that there are no true statistics on the matter at this present moment in time. Still, it remains probable that Colorado's recreational marijuana market could still approach $500 million in just its first year.