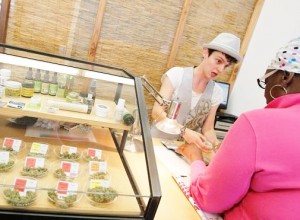 According to 'The Green Sheet' the Department of Justice is backing away from regulations governing medical marijuana dispensaries.   In a statement in August 2013 they stated that as long as they continue to follow the laws governed by the states, they would no longer harass them and close them down.
Twenty one states have legalized marijuana for medical purposes and sixteen states have legalized small amounts in possession. No one knows for certain how the laws will continue to change, but know, if you are on the lookout for a medical marijuana merchant account, now is as good a time as any.
Kayvan Khalatbari
Kayvan is a part owner in a medical marijuana dispensary and was still having difficulty in May of this year getting his merchant account approved.  With the new statement released this fall, he should be taken off the TMF file, or black list, as it is affectionately called, and be able to get his new merchant account for whatever business he has open.
Go shopping
It's a lot easier now. The government has backed off on the merchant account servicers as well. Their threats of shutting down the merchant account servicers, because of their association with the dispensaries has gone away, at least for the most part.
Go online and find merchant accounts that have a specific knowledge about marijuana dispensaries and their needs. They will be advertising such a notion, and your account will have a bigger pull with them, than any other. They are the one's waiting for your business.
No longer
I wouldn't pull those ATM's off your lot, but know that you have another option with the merchant services. Now your customers can pay online, if you have a website. If not, you can process their debit and credit cards right there and having that ATM on site gives them one more option. If they need some extra cash for later, you have the ATM to process that request for them.
Wireless
If your business is in an area that you can get cell service, you have the option of processing payments from your smart phone. Many new pieces of technology have adjusted to the growing demand of payments on the fly. Hair stylists have opted to have their customers pay with the little 'Square' and its applications for adapting to their cell phones. A quick signature and the customer receives a receipt in their email, with all the pertinent information.
As an on the go type business, a dispensary can do the same thing. Processing customers as you find the right product for them without seeking out the cash register. On the spot payments speed up transactions and help the customer get on with their day without waiting in lines.
All in All
Look for the professionals that are seeking out your business. The medical marijuana merchant account will still be in the high risk category, but a few extra pennies to help with the production of sales, is a small price to pay for the convenience. Ask a lot of questions and know how that merchant account servicer feels about your account before you sign up. You want to feel comfortable about where your money is. Good luck with your merchant account.