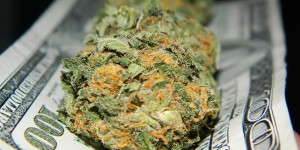 It has been 20 years since Californians approved Proposition 215, the medical marijuana policy that allows for growth and distribution of the drug to designated patients. Since then, the growth and distribution of medical marijuana has been controlled by local entities. But it was only last year that the state approved the Medical Marijuana Regulation and Safety Act, a group of bills that attempts to regulate medical marijuana on a state level. The act seeks to control the cultivation, manufacturing and licensing of medical marijuana, but maintains local government's sovereignty over marijuana businesses, cultivation, and delivery. But an erroneous deadline in the bill allows local governments to ban medical pot cultivation, dispensaries, and mobile delivery. This has made many patients who have depended on the drug for treatment nervous.
The new bills gives local governments without ordinances relating to the cultivation of medical marijuana, the ability to do so until March 1, 2016. After that, the authority goes to the state. The deadline has sent some local governments scrambling to enact any type of regulation. In fact, dozens of governments have now imposed bans on medical marijuana cultivation. Last month, Paso Robles, Pismo Beach, Calistoga, Merced, and Tustin banned cultivation and/or deliveries. While other cities like Riverside, voted to allow a limited amount of cultivation.
In an open letter to city and county governments, Assemblyman Jim Wood, stated an intention to strike down the deadline and keep regulation in the hands of local governments. Some local governments have indicated a willingness to take another look at ordinances if the deadline is eradicated.
If the deadline is removed, local governments should focus on regulation and not prohibition. According to Americans for Safe Access, an organization that advocates for medical marijuana, bans on commercial or personal pot cultivation hurt patients. Despite the moral qualms that some citizens may have regarding medical marijuana, the reality is that patients are legally prescribed marijuana from a doctor that has determined they can benefit from use. Banning the growth and distribution of medical cannabis will only benefit the black market. As patients lose access to the drug legally, they will seek it out in places much harder to find and control.
Marijuana Merchant Account (MMA) offers a variety of marijuana payment solutions. We are a leading source of medical and recreational payment processing and loan origination. Be ready for state regulation with consumer and government trusted standards that only MMA can provide.
Contact us to open a marijuana merchant account today!