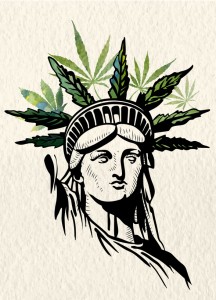 To the delight of the medical marijuana industry, it's a season of growth. The campaign to create a medical marijuana program in New York was a very long, uphill battle. Even when it was finally passed in 2014, advocates criticized the many restrictions imposed. Known for being again the legalization of marijuana, many were pleasantly surprised and relieved when Gov. Andrew Cuomo agreed to sign legislation granting five licenses to grow marijuana. Although, the number of dispensaries in the state was capped at 20.
Since then, Gov. Cuomo administration has made many changes. Home delivery of the drug has is now permitted. Chronic pain was added to the list of eligible conditions, and nurse practitioners are now allowed to prescribe the drug. More than 20,000 patients and over 1,000 practitioners have been registered.
Although he still openly opposes recreational marijuana, Gov. Cuomo has been become more accepting of medical marijuana. In June, the state Senate voted to add PTSD to the list of illnesses and ailments eligible for the state's medical-marijuana program; this decision came six weeks after the Assembly's decision to do the same.
On August 1, the New York State Department of Health announced that it had licensed five new medical marijuana companies. This addition doubled the number of firms growing and selling medical marijuana products under the (strictly) regulated state program. The new businesses joining the industry are New York Canna, Fiorello Pharmaceuticals, Valley Agriceuticals, Citiva Medical and PalliaTech NY.
Despite growth, there are still many obstacles to overcome, and plenty of issues merchants are currently struggling with. For example, on behalf of four of the five original companies, the New York Medical Cannabis Industry Association, sued the state to try to stop the issuance of new licenses. The claim was that this issuance was an overreach of legal authority.
According to Times Union, "The association claimed that not only would DOH be overstepping its legal authority by issuing more than five licenses, it would imperil the nascent industry because demand for medicine does not warrant doubling of the supply market."
Another large issue merchants and medical marijuana businesses experience is finding payment processing solutions. Although medical marijuana is legal in New York, it is still illegal at the federal level. With strict federal regulations, banks won't touch cannabis businesses. An increasingly popular solution is a marijuana merchant account from an alternative provider like MMA. These accounts allow these merchants to avoid operating in cash-only by providing the ability to process credit and debits cards and e-checks.
Regardless of those who have tried to stall progress, the New York medical marijuana industry is moving forward. Even with the many obstacles, it continues to grow and merchants are finding the solutions they need to grow a thriving business.