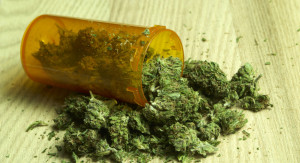 While Iowa has legalized medical marijuana for a few ailments, many are pushing for the legalized limits to be widened. Current Iowa law, signed two years ago by Gov. Terry Branstad and set to expire July 1, 2017, allows Iowa residents to possess and use up to 32 ounces of cannabidiol (CBD oil), a derivative of the marijuana plant, for the sole purpose of treating intractable epilepsy and its side effects.
Iowans under a physician's care who acquire an approved cannabidiol registration card must obtain the product from other states that produce cannabidiol. But few sell to out-of-state residents, which advocates say makes Iowa's law unworkable. A bill passed by the Iowa Senate last year that failed to win support in the Iowa House would have established a comprehensive medical cannabis program for Iowans seeking relief from debilitating diseases and conditions.
Proponents say the measure contained safeguards to keep it from ushering in legalized use of marijuana for recreational purposes. It also would have authorized the production and dispensing of medical cannabis for expanded uses and medical conditions. Perhaps this is true – but other states have found that this is just a myth. Of course, and thing could happen and that is where lawmakers and proponents are leaning.
So, if it is widened and CBD oil is easier to obtain, will there be a problem? Legalized pot is one thing, but CBD oil is a whole other machine. You can't just smoke it or vape it to get high; in fact, it heals more than it calms – except in those with severe seizure and cancer ailments.
And yet another major issue comes not from the industry itself, but rather how people will pay for their CBD oil. "Cash oily" is a bad idea for many business, but marijuana shops and dispensaries that are cash only have a bigger target on their backs. You need to look for a medical marijuana merchant account provider, like MMJ, to house your merchant account. A medical marijuana merchant account provider should have immense industry experience and knowledge to help you better your business – and steer clear of any legal issues.