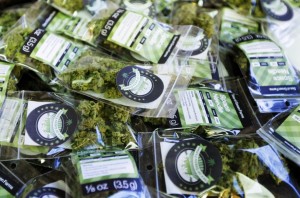 As a whole, the industry has experienced a handful of high-profile banking setbacks this year. Industry and banking experts are calling for real changes if things are going to improve on the federal level for the marijuana industry.
In July, the U.S. Federal Reserve Bank of Kansas City denied a Colorado credit union a master account. This account would have allowed The Fourth Corner Credit Union the ability to conduct electronic transactions, process checks and credit and debit cards. The credit union filed a lawsuit in federal court that challenged the decision, saying that it wants "equal access" to the financial system.
Nevada and California have also made moves towards bringing banking services to the industry. Nevada is pushing to create marijuana focused "thrifts". An amendment to a bill is currently before the Nevada governor that could potentially change the rules so savings and loan companies – "thrifts" – wouldn't have to obtain insurance from the Federal Deposit Insurance Corporation (FDIC). Thrifts have the potential to become the go-to financial institution for cannabis companies.
Likewise, the California Tax Board is proposing the creation of a state-run bank where cannabis companies would be able to easily deposit their money. For businesses that have been forced to operate in cash only, it would be a much safer and practical option. However, the board has yet to officially write out a plan.
Many feel that the real issue is that marijuana is still classified as a Schedule I substance, making marijuana very much illegal on the federal level. This classification has left banks in a difficult position between state and federal law. Two financial institutions that were going to be big players in cannabis banking reversed course earlier this year. In addition, the First Security Bank of Nevada announced in May that it would no longer accept deposits from the sale of marijuana.
"The only true solution is a change in federal law," said Jenifer Waller, the senior vice president of the Colorado Bankers Association. "That's the only way to fix it. It's still the illegal nature of the activity, and that's what no financial institution can get over."
Banks and marijuana businesses are not the only ones who are hoping for changes at the federal level. The agencies in charge of ensuring money derived from cannabis sales is also frustrated with the situation. In keeping money from well-regulated banks, it also prevents the regulation of where that money came from, how it is being used and where it is going.
In the words of Matthew L. Schwartz, a partner with a New York-based law firm that works with cannabis companies, "Right now, if you're a law enforcement officer and you want to follow the money, that's difficult to do with an all-cash business".
Not only is it difficult for marijuana businesses to be transparent without a way to deposit their money, operating in cash only is inconvenient and unsafe. Thankfully, marijuana payment processing has provided a safe and hassle-free option for businesses. The services provided by a marijuana merchant account are tailored to the needs of the marijuana industry. As businesses secure other means of payment processing, the industry as a whole is waiting to see what happens at the federal level.
Contact us for Marijuana Payment Processing today!