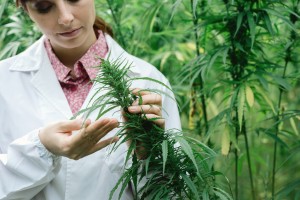 The news is full of updates on the state of the marijuana industry. Reports of which states have legalized recreational and medical marijuana, along with the many reasons why cannabis is beneficial. One of the less mentioned topics is the nerve-racking process these marijuana merchants go through to complete otherwise simple, mindless business tasks.
Consider the state of California, for example. On January 1, 2018, recreational marijuana will become legal in California. Coupled with the already legal medical marijuana, this could quickly push California to be the largest legitimate marijuana economy. However, there is one large, crippling aspect to the marijuana industry that makes it difficult – even dangerous – to operate in: most merchants can't use a bank. An emerging marketplace, with a projected $7 billion value, finds itself operating in cash-only.
How is this possible? Marijuana is classified by the DEA as a Schedule 1 substance (high potential for abuse, with no currently accepted medical use in treatment in the U.S.), alongside heroin. Thus, it remains illegal under federal law. With intense federal regulation, banks do not want to handle the risks involved in working with businesses that offer cannabis product.
Within the next few years, California is expecting to collect $1 billion in new tax revenue from the marijuana industry. L.A. has an estimated 1,000 to 1,700 medical marijuana dispensaries. In 2016, only 200 paid city taxes. Next year alone, the state expects to collect $40 million.
This stunning amount must be processed through a bank, right? Think again. With no bank solution, these merchants must closely manage their cash to ensure they have enough to cover taxes. While other businesses send a check or wire the money via their laptop, marijuana merchants count their (massive) cash on hand, make arrangements to drop off the tax payment –hundreds of thousands of dollars in many cases – and then make a nerve-racking trip to the agency. The biggest fear is being robbed in route.
"When now everyone makes payments through their cellphone, it's tough to see that I'm left to the archaic version of counting money", says Jerred Kiloh, owner of the Higher Path medical marijuana dispensary in Los Angeles.
More and more merchants are beginning to discover the advantages of securing a merchant account to sell marijuana through an alternative provider like Marijuana Merchant Account (MMA). Specializing in working with the cannabis industry, these solutions provide safe and efficient payment processing options. No longer restricted to cash only, MMA offers credit and debit card processing and e-check processing. In an industry where merchants, banks and armored truck services fear backlash from the federal government, merchant accounts offer a real, safe solution for marijuana merchants.