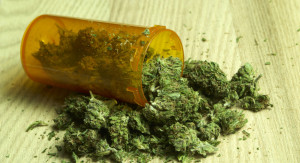 As each state legalizes medical and/or recreational marijuana, much has been said about the issue of money. Despite the continued federal prohibition, the marijuana industry has grown rapidly. The emerging market brought in nearly $9 billion in sales in 2017, according to managing director of BDS Analytics, Tom Adams. With the POaddition of the Golden State, it is estimated that this number will increase to $11 billion in 2018.
Believe it or not, money is a problem. A very big problem. The massive amounts of money these marijuana dispensaries are bringing in have nowhere to go. With this cash floating around, marijuana business owners find themselves in a dangerous situation.
Just this summer, the owner of a successful marijuana dispensary in Southern California was abducted from his Orange County home, tortured and mutilated by kidnappers. The reason? They mistakenly believed he had buried tens of thousands of dollars somewhere out in the desert and wanted to know where it was.
In another horrific incident, a 28-year-old employee of a cannabis shop was left to die after being shot by masked men. Witnesses said they saw them escape with a duffel bag full of cash. In South LA, a teenager was shot dead by a dispensary security guard during a robbery attempt.
While California has allowed medical marijuana for years and fully legalized recreational in January of 2018, the state's largest crop is still very much illegal under federal law. At the federal level, cannabis is classified as a Schedule I substance with no currently accepted medical use and a high potential for abuse.
Afraid to place themselves under federal prosecution if they accept money from marijuana sales, banks turn these businesses away. This leaves marijuana dispensaries with lots of cash and nowhere to put it. A large majority of a multi-billion dollar industry is forced to deal almost exclusively in cash. Thus, more and more dangerous encounters and tragic events are taking place.
"It is a sad, misfortunate, bad application of public policy," Aaron Klein, policy director of the Brooking Institution's Center on Regulation and Markets, told The Daily Beast. "One of the purposes of decriminalizing and legalizing marijuana is to reduce crime."
MedMen is one of the largest cannabis companies in the world, with stores in California, New York and Nevada. Despite raising roughly $135 million in venture capital money and having Chris Leavy as co-chairman, "the world's largest money manager," according to Bloomberg, no national financial institution wants anything to do with its money.
"Banking is definitely a challenge for this industry. I think everybody recognizes that," MedMen spokesperson Daniel Yi said. "As an industry, of course we would like to have access to full banking services, including commercial loans, a line of credit — that's what every business runs on."
For now, marijuana dispensaries are continuing to rely on marijuana POB from an alternative provider like Marijuana Merchant Account. This option ensures businesses have a safe way to process transactions and handle their cash.