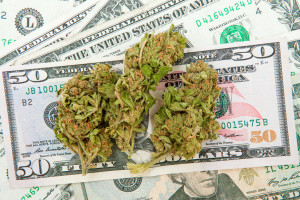 For the majority of medical marijuana companies, the entrepreneurs behind them wish to be completely transparent and viewed as a legitimate business. Because financial institutions are regulated on the federal level, most banks and credit unions have been reluctant to offer their services. Even though the business is legal, financial institutions still shy away.
Because of this, many marijuana businesses are forced to operate in cash-only. This is not only completely unsafe for the business, but it also makes it difficult for the owners to be transparent. The head of Oregon Banker' Association, Linda Navarro, revealed to the Northwest Public Radio that many banks would be willing and even happy to offer their services, but the current federal barriers are just too great for them to manage at this point in time.
As a result, The National Cannabis Industry Association, a national trade group, is expanding its advocacy efforts on Capitol Hill. The purpose behind this expansion is to address the industry's top federal priorities: fair federal taxation and basic banking services. In this effort, The National Cannabis Industry Association (NCIA) has partnered with two D.C.-based public affairs firms: Jochum Shore & Trossevin PC and Heather Podesta + Partners.
The NCIA Deputy Director, Taylor West, said that "Bringing on these two firms is a big step forward for us, but also a very real indicator of the fact that we as an industry are taking our legislative strategy very seriously. We recognize the benefits of bringing in highly skilled people who work in this environment".
The regulatory structure that banks must follow has made it difficult for marijuana businesses. They are treated much differently than other types of legal businesses. The hope is that the teaming of these firms will be the answer to the industry's needs in that it will revolutionize the way those in the sector do business.
While marijuana companies wait for the industry to grow and for improvements to be made, many companies are turning to medical marijuana payment processing from alternative providers. Providers such as Marijuana Merchant Account (MMA) specialize in offering accounts that are tailored to a marijuana company's needs. A great advantage to this type of merchant account is that the application process is fast, simple and hassle-free. Until the pressure and regulations for banks are changed, medical marijuana payment processing will remain a great option for marijuana companies in need of payment processing.
Contact us for medical marijuana payment processing today