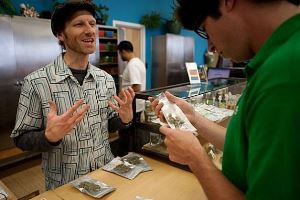 Of all the states that have legalized pot of some form on the ballot, New Jersey puzzles some. The vastly Democratic state with a Republic governor may soon has legalized pot. While this state could use the extra tax benefits that legalized pot brings – is the state ready?
One thing that makes New Jersey's law unique is that you could purchase the pot in cigarette form. Earlier last week, State Assemblyman Michael Patrick Carroll introduced a piece of legislation (A4193) aimed at legalizing a recreational cannabis market that would operate under the same restrictions the state already has in place for people who buy cigarettes. The lawmaker's goal is make legal weed available in supermarkets and convenience stores, giving cannabis users the same access to the herb as smokers have for their daily vice.
The proposed law really digs into true foundation of what it means to repeal prohibition by not only legalizing the leaf for adults 19-years-old and older, which is the legal age to buy cigarettes in New Jersey, but it would also serve as a reform to the state's criminal justice system by expunging the records of those people with previous marijuana offenses.
And the latter is great – we can all agree on that. But should it be a separate bill? That is what some are arguing, and it makes a good point. They are two different issues, and may have two different sets of people clamoring their support. While those who are not fans of legalized pot may not be on the sidelines for it, many are in favor of quashing old marijuana charges for those who served their time or probation, and have went on to lead productive lives.
But, will this pass? Perhaps. The state, even though it has a Republican governor, is liberal, and it is surrounded by other liberal states that may soon follow suit. It only takes one state to be successful with one thing for other states to follow along, and New Jersey have pave the way for others to push for legalized marijuana cigarettes and the quashing of old pot charges.