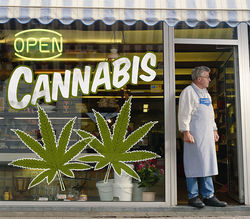 According to recent tax data released by Colorado, recreational marijuana sales increased by five percent in February. Sales reached $15.1 million. While this figure is good it is lower than expected. Though February was a shorter month than January which skews the actual perception of how much sales have grown.
Sales were approximately $539,285 each day in the month of February. This, when compared with $464,516 in January, shows that there was actually an increase of around 15%. This would have created a total of $17 million in February vs. $14.4 million in January, if February wasn't a shorter month. Making sales a few million higher.
As recreational sales rise steadily and are expected to continue to climb as the year progresses, medical marijuana hasn't suffered as some previously feared. Sales for medical marijuana rose 12% in February reaching $35.2 million. These figures prove that the recreational market is not impacting the medical market revenues. With medical and recreational markets both growing steadily and not adversely affecting each other the industry stands to increase as the year goes on.
The state collects taxes and fees on both recreational and medical marijuana. In February the state collected $3.2 million in taxes and fees related to the marijuana industry. A percentage of that, $438,253 is connected to a 2.9% sales tax on recreational marijuana and $1.43 million is connected to a 10% sales tax on any retail cannabis transactions including ancillary products related to marijuana.
Also as the dispensaries see increases in their sales it will be important to streamline a marijuana payment processing method to better capture sales and assist customers. Currently cash is the only form of payment accepted in dispensaries though that may change soon with the advent of new applications and technology.
Despite the good figures state lawmakers are holding off on making plans for the funds. As the forecast of the tax revenues could be different than what the various offices initially predicted. Therefore until more information can create a more accurate forecast the finalizing of spending plans for the tax revenues are on hold. Especially as the revenue estimates, created by the governor's office, that were presented to voters who approved the marijuana tax plan in Colorado haven't yet been consistent with the official tax report.
For Merchant Processing start below…