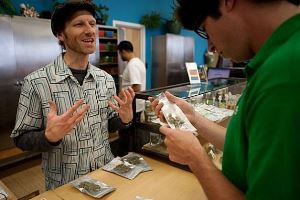 Of all the issues people can have with pot, the last thing you would think about is the packaging, right? Well, in Florida lawmakers and citizens are in an uproar over the "candy-like" and "cutesy" packaging of pot. Let's rephrase that a bit: This pot isn't yet legal, but there are still people clamoring over the possibility, thanks to the vague laws that are being voted on in a few days. So, what's a Floridian to do? Well, vote for one, and secondly, pay attention to the laws.
"Pot packaged like candy. Up to 20 times stronger than it once was. Marketed to kids. Sold next to schools in nearly 2,000 pot shops across Florida. No medical standards. No pharmacists. No prescriptions. And no way to stop it unless you vote no on Amendment 2." Florida election ads often stand out, when they bleed over into the media market in south Alabama. There just seems to be something a little more colorful about political battles in the Sunshine State. But even in that context a current TV commercial is eye-catching, which is somewhat refreshing in an odd election cycle. So, this should bring more clarity to the problem, right? Nope. This law is so vague that even some in the industry aren't sure how it is even up for public vote.
Florida voters will consider an Amendment 2 that lays out an extensive framework for medical marijuana. If it passes, doctors won't exactly be able to write a prescription for pot. Instead they'll be able to issue a "physician certification", which is defined as "a written document signed by a physician, stating that in the physician's professional opinion, the patient suffers from a debilitating medical condition, that the medical use of marijuana would likely outweigh the potential health risks for the patient". Which, yes, it basically a prescription without the doctor handing out the pot.
There is nothing wrong with this, however, the vagueness of the law and the illegality of pot will make it nearly impossible for good merchants to get merchant accounts and funding for their medical marijuana dispensaries. Merchants need to look for an experienced medical marijuana merchant account provider, even if it is not based in Florida. This is one decision that you cannot afford to be wrong with, so be sure to go over your options before signing on the dotted line.