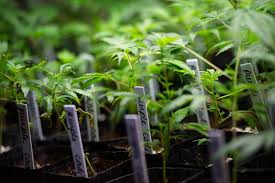 Marijuana decriminalization is now one of the hottest topics in California and the whole of U.S. On Jan. 1, California celebrated the legalization of weed for all over 21s and joined Colorado in the list of 'high states.'
But soon after (on Jan. 4), Attorney General Jeff Sessions, the weed seller, and pothead's main headache showed up uninvited and ruined the party. Sessions have been resilient in his efforts to thwart all the years of struggle other lawmakers have made to see that the United States legalizes cannabis. And his Jan. 4 repeal of the Cole memo that protected states from federal interference with local laws threatens to scare the future of weed.
Bipartisan Resistance
Not that Sessions is winning his war on the now flourishing cannabis industry; in fact, he's been facing a lot of bipartisan resistance. State leaders and Democrats won't watch their legally established and regulated sector go down with one man's declaration.
Republicans like Sen. Cory Gardner (Colorado) have even stated that the revoke contradicts President Trump's campaign promise and Jeff Session's pledge to the nation's highest lawmaking office.
Investors in the industry have also warned that it may lead to interference with the billions in revenue and the thousands of jobs Marijuana and related companies are making.
Non-citizens and Immigrants Not Protected in California legalization
But despite legalization, possession, and consumption of legal California pot could still mean severe legal issues for non-citizens and undocumented immigrants.
Cannabis hasn't been federally decriminalized, and federal regulations control immigration.
Brendon Woods, Alameda County Public Advocate expressed his concerns stating that immigrants are disadvantaged because being convicted for possessing anything above 30 grams of pot, whether in the U.S lawfully or not, is punishable by deportation.
The situation is worsened for non-citizens after A.G Jeff Sessions asked federal prosecutors to crack down on marijuana dealers and users in states that have decriminalized it.
This is so unfortunate given that California hosts over 10 million immigrants. That's a large number considering the currently trending weed culture meaning chances are a good number may run into problems with the law.
There have been claims of the lack of federal resources to follow up marijuana cases, plus California has more liberal prosecutors; two factors that may cool things down a bit for now. But still, there's reason to remain paranoid and have some eyes on the back of your head (if you're a non-citizen).
The uncertainty is primarily caused by the administration's general stance on immigration.
In a nutshell
The ultimate solution for Americans (including immigrants) would be legalization but getting to that is proving to be a long legal battle. Nevertheless, there's hope for the cannabis industry and potential full decriminalization. It's only a matter of time.