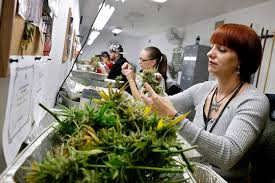 Two of Colorado's largest banks, Wells Fargo and FirstBank, have announced that they will not offer any new loans to those whose properties are hosting marijuana dispensary businesses. Wells Fargo and Vectra Bank have already told commercial loan clients they will have to either evict the marijuana business or refinance their loan elsewhere. This is not only harmful to the new legalized marijuana businesses, but also to the property owners who may lose paying tenants.
This comes just days after federal banking regulators announced what some said was a green light for doing business with the marijuana industry. These rules require that banks continue to file reports on their interactions with marijuana businesses, and they must identify when transactions are questionable. Banks are leery that notes collateralized by property theoretically subject to federal drug-seizure laws are just too risky. Vectra made that very demand on a commercial loan that had come due, the client will have to find his own refinance bank that will deal with a property owner who hosts marijuana dispensaries.
While this may seem like discrimination against those who own and host legalized marijuana dispensaries, take into account that the federal government still considers marijuana illegal. While practically anyone over the age of 21 can go to Colorado, show there is, and purchase the newly legalized drug, it can only be used in Colorado. It cannot be taken aboard an airplane, nor can the buyer cross state lines with it. It is understandable that banks have to answer to the FDIC, or Federal Deposit Insurance Corporation, and perhaps could worry about penalties that could occur if they garner to these businesses. Regardless of one's stance on the legalization of marijuana, it is legal in Colorado, and these business owners and their property owners seem to be pushed aside by bankers out of fear.
While the legalization of recreational marijuana has great financial benefits for the state of Colorado, it seems to be having a negative effect on those who are trying to take out property loans, or refinance property loans. While it seems unfair that these businesses and property owners are being singled out, it must be remembered that all reputable banks must answer to the federal government, and the FDIC. Because of this, and because of marijuana's illegal stance in the federal criminal system, it seems clear that these stances will not change, at least in the near furture.