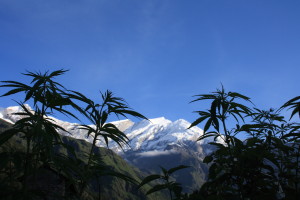 Despite the use of marijuana still being illegal on the federal level, businesses still continue to grow and prosper under the legalization of the substance in some states. Some growers have gone as far as beginning to breed. Breeding is becoming just as important and attractive in the industry as growing.
According to High Times writer, Harry Resin, a grower located in Amsterdam has been involved in marijuana growing for some time. This grower, Soma, began breeding in Florida as early as 1974. The warm temperatures of Florida seem to help the growing process immensely.
So far, Soma has been able to harvest seeds of his own after planting many different varieties. The seeds he has used include Thai, Laotian, Asian, Afghan and Cambodian. He has discovered that crossing two plants results in a stronger and more potent product than its parents. Even better, these plants yielded larger buds that were also frostier.
For many, the breeding aspect of cannabis has become more exciting and addicting than the harvesting part of the business. There are several breeding tips you should consider, in light of the experiences of breeders and growers like Soma:
Be sure to double check the seeds. When you receive a pack of seeds, be sure that you check and determine approximately when they will be finished.
Be careful not to make watering mistakes. Over watering is a beginner's mistake in this business and will definitely cost you dearly.
Over fertilizing is also a mistake that is made often. When this happens, the whole crop of perfectly good seed can be ruined.
When in doubt, let it flower longer. Even if you feel that the buds look ready, it is very easy to pick them too early. By waiting a week longer, you are more likely to pick them when they are at their maximum yield and flavor.
Are you one of the many entrepreneurs seeking to enter the medical marijuana business? Have you begun the process of growing and harvesting? If you have, you've probably also discovered how difficult it can be to secure funds and safe payment processing in this industry. Things have come a long way for medical and recreational marijuana, but there are still many obstacles to overcome.
With marijuana-merchant-account.com, you can expect to receive your funds quickly and hassle free. Spend more time refining your skills and less time worrying about paperwork and how you can make the purchasing experience stress free for your customers. Medical marijuana payment processing could be the answer you've been looking for.
Contact us for medical marijuana payment processing…