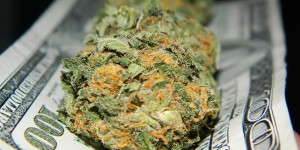 A new report published by IBISWorld Research claims that the medical marijuana industry could reach a revenue of $8.4 billion by 2019. In 2014 the revenue is projected to grow by 63.1%. Annually, the growth rate would be nearly 19%.
There are some challenges that the industry could face including state and federal regulations. Due to many state laws medical marijuana is mainly a small business operation though the industry is set to pay more than $750 million in wages making it very valuable.
As such there are many companies which will expand their operations, unveil new products and new partnerships to continue to grow in the cannabis market.
DirectView Holdings, Inc. (OTCQB: DIRV) a leading security and video technology company has created a strategic partnership with CannaPods, LLC to be the exclusive security solutions provider for CannaPod's customizable portable cannabis grow rooms. The terms of the agreement mean that CannaPod will recommend DirectView as the vendor for its cannabis grow room environments. DirectView could then provide video surveillance, video monitoring and video recording products to CannaPods and sister company PonicPods, LLC., which makes growing environments targeted at a variety of industries including organic foods.
In regard to new products Green Cures & Botanical Distribution Inc. (OTC: GRCU) are taking steps to innovate in the cannabis and botanical industry by creating high quality hempseed oils and cannabis flower topical medicinal and botanical products. With plans to work in multiple industries including Nutritional Supplement/Dietary, Health and Wellness, Functional Beverages, Hemp and Online Marketing the company stands to gain significant sales especially in the Nutritional Supplement/Dietary industry which is evidently worth more than $31 billion in the United States. It is estimated that half of all Americans use some type of dietary supplement and 40% use nutritional ones.
MediFarm LLC, a subsidiary of Terra Tech Corp. (OTCQB: TRTC), recently obtained a special permit in Clark County, Nevada to create a medical cannabis cultivation and production facility which will allow it to expand its extensive experience in agriculture and medical cannabis growth. The company will now seek approval from the state for the proper business license to operate its facilities.
Vapor Group, Inc. (OTCQB: VPOR) is set to introduce a new line of high-end products at the Weedstock Cannabis Investor Conference in Denver. The company plans to display a new line of vaporizers including the "Vapor Box THB" which gently heats the dry herbs or oil-wax with air inside a controlled temperature heating chamber. This would vaporize without burning an herb unlike current vaporizers which use heating coils. It has been created to have a 10,000 hour lifetime.
With so much expansion in the marijuana industry the use of marijuana merchant accounts is set to grow as well as facilities look for ways to securely and effectively process payments. Payments are an important part of the industry and the facilitation of payments through a marijuana merchant account will make the process easier and more efficient.
For a Marijuana Merchant Account contact us today!