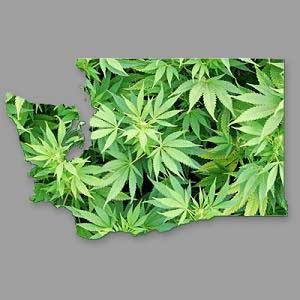 If the legalization of marijuana in the state of Colorado seemed like high-profile news, it is safe to say that you have seen nothing yet. Amazingly, Washington's first legal retail marijuana store sold over $30,000 of product – in only its first day. This completely trumps the dispensary average of Colorado's first day of retail sales, back at the start of 2014.
Although the estimates are often debated, it is confirmed that Colorado's first day of legal marijuana sales totalled at around $20,000 for each of the state's first 37 retail shops, all of which sell the product itself and various paraphernalia associated with the subject. Lucky for them, the primary recipient of the first-day weed hype was Top Shelf dispensary, which is situated in Bellingham, Washington. According to the high-spirited owner of the store, John Evich, more than 1,200 eager customers purchased marijuana between the hours of 8am and 10pm. The first official legal sale in the state was served out by Top Shelf themselves, to Cale Holdsworth, a native of Kansas state.
Although the first day of legalization was record-setting for Washington, it is said that dispensaries may have no other choice but to contest with a limited supply of approved and available marijuana. Although a few dispensary owners, including Evich, were more than able to keep their customers happy due to shipments of multiple growers, other collectives unfortunately might not be able to do the same. Not only this, but it's worth dispensary owners noting that the retail stores in Colorado have experienced significant price drops in the six months that marijuana has become legal.
Despite this, it is certainly a fact that the first day of Washington's marijuana legalization has been absolutely monumental, and will be remembered in many years to come as the start of an era for Washington. And, hopefully, the best is yet to come.
Does your Washington Dispensary need a merchant account? We can help, click below!