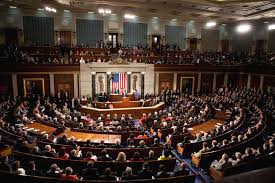 On May 14, 2014, the National Cannabis Industry Association announced on their website that state medical marijuana laws would be discussed the following week on the floor of the U.S. House of Representatives.  According to Steven Nelson of U.S. News & World Report, "Six Republicans and six Democrats, led by Rep. Dana Rohrabacher, R-Calif., are seeking to ban the Department of Justice – which includes the Drug Enforcement Administration and federal prosecutors – from using funds to go after medical marijuana in places where it's allowed by state law."
This isn't the first time an amendment has been brought to the floor. A similar amendment was defeated in 2007 by a vote of 262-165. Recently, however, national polls have shown an overwhelming change in support of legal medical marijuana. According to U.S. News & World Report, "CBS News gauged support at 86 percent in January and Fox News found 85 percent support in February 2013."
In addition, Rep. Morgan Griffith (R-VA) has introduced a bill proposing a removal of the barriers on doctors when it comes to prescribing marijuana. While the belief and movement is that medical marijuana should be available at pharmacies and covered by insurance, the concern is that doctors will be breaking the law.
For now, marijuana is still listed as a Schedule I drug; such drugs are classified as having a high potential for abuse with no accepted medical value and purpose. Doctors are unable to prescribe Schedule I drugs. In states where medical marijuana has been legalized, the most doctors are able to do is "recommend" it to patients who qualify.
According to U.S. News & World Report, Twenty-one states (soon 22) and Washington, D.C. have legalized medical marijuana, beginning with California in the late 1990s. Others states have dated laws allowing doctors to write prescriptions for marijuana that have not taken effect, or have recently legalized more limited cannabis-derived treatments.
As discussions continue, and more and more states legalize medical marijuana, those moving in the industry will be looking for sources to handle payment processing. Marijuana-merchant-account.com provides merchant processing services to Marijuana Dispensaries as well as high risk merchant accounts. Those working in the industry will need such sources since the use of medical marijuana may be legalized in some states but is still very much illegal on the federal level.
Need Marijuana Merchant Processing? Click the button below to get started today!