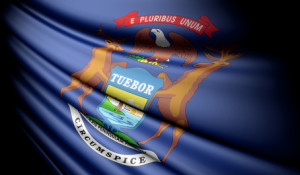 In a twisted case that turned police against their own, three corrections officers were accused with illegally using marijuana butter, although they legally secured state medical marijuana cards in Michigan. Three corrections officers in Kent County were using marijuana butter infused brownies to alleviate pain. Corrections officers say Marijuana edibles were a better alternative to the prescription medications that the officers were prescribed. The Michigan Medical Marihuana Act allows a patient to have up to 2.5 ounces of dry marijuana while butter or edibles are not included in the act.
In 2011-2012 the officers started using marijuana butter infused edibles as an alternative to prescription medications to help alleviate pain. Little did they know, in July of 2013 the Michigan Court of Appeals ruled that concentrated forms of marijuana, such as butter, were no longer included within the laws of the Michigan Medical Marihuana Act (MMMA). The officers had no idea the MMMA had changed and continued to use their method of treatment to help pain according to attorneys. In March of 2014, the officers' homes were raided and drug charges were filed.
After the incident, the third corrections officer, Timothy Bernhardt, plead guilty to numerous drug related charges. With no chance of returning back to his career and having to testify against his fellow officers, Bernhardt was found dead in his home on November 16th 2014, ruling the death as a suicide.
The ongoing trial with the other two corrections officers, Mike Frederick and Todd Vandoorne, contend that they have done nothing wrong. VanDoorne had neck pain and had to fuse vertebrae together in 2010. He was initially prescribed painkillers, but made him sluggish and angry.
Stating the positive benefits of marijuana he says, "The medical marijuana was excellent, completely different from the narcotics. I could still do things, still carry on daily chores". Frederick, the other corrections officer with the marijuana charge, has complications from diabetes and has neuropathy problems which causes the muscle in his legs to severely cramp. The use of medical marijuana greatly reduces body aches and pain.
With medical marijuana being touted as the better and safer alternative to prescription painkillers, advocates for marijuana have sprung up more than ever all across the United States. With proper certifications, many people are legally buying medical marijuana according to state law. If you plan on opening a marijuana shop in your city you will need a marijuana merchant account. Go to marijuana-merchant-account.com to work with industry professionals and get your store up and running and start accepting credit and debit cards for your business. Evidentiary hearing is expected to continue and more testimony is expected from Frederick and Vandoorne. Following state laws can avoid any legal issues. With a pending appeal on their case, the state Supreme Court will decide on how to handle the matter in the coming days.
Contact MMA for quick and easy payment soultions