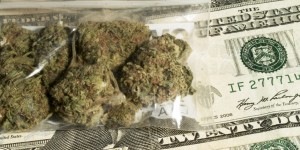 Although medical marijuana has been legalized in 20 states along with the District of Columbia, the industry is far from reaching the finish line in clearing all of the obstacles in its path. In an effort to put their best foot forward, the delegation from the National Cannabis Industry Association arrived at Capitol Hill dressed in their very best, in hopes of proving to Washington that they are more worried about their businesses than social activism.
At this point, the industry has been placed in a very strange position. President Obama has given thumbs up for doing business with legal marijuana sellers; the intention here is to try to get the banks to open up to the marijuana industry. Despite this go ahead from the administration, banks are refusing to open their doors to the marijuana industry.
As a result, this has placed the industry in a position where it is legal in some states but still very much illegal on the federal level; this is why banks are leery of doing business. In, Marijuana Properties are having a Hard Time Finding Financing in Colorado, the issue banks have is revealed, "These rules require that banks continue to file reports on their interactions with marijuana businesses, and they must identify when transactions are questionable. Banks are leery that notes collateralized by property theoretically subject to federal drug-seizure laws are just too risky."
Because of the risks involved, two of the largest banks in Colorado, Wells Fargo and FirstBank, have announced that they will not be offering services to the industry. So despite the green light from the administration, the marijuana industry has hit a brick wall in Colorado when it comes to finding financing. Since the industry's access to banks is very limited thus far, much of the industry is forced to operate in cash.
In addition to having issues with financing, the industry has had to deal with issues in the tax code. When the delegation met with staff members on Capitol Hill, it was to appeal to changes to the tax code that prohibits the businesses from taking standard deductions for expenses. According to an article by Holly Yeager of The Washington Post, "Section 280E of the tax code, which prohibits companies involved in drug trafficking from deducting normal business expenses that other legal businesses can claim."
While legal battles continue in some states and questions still arise at every corner, the industry is seeing some big-name investors trying to get their foot in the door – New York State assembly member, Steve Katz being one of them. In another blog post by Marijuana Merchant Account, Mainstream Investors Begin to see the Value of Legalized Marijuana, states that "The legalization of marijuana is a hot topic across the United States, and to see a state assembly member put his trust, and funds, into the ring is a big step forward."
At this point, there are other states that are pushing for legalization. However, there are still many issues for the marijuana industry to overcome at both the state and federal level. For those involved, it must feel a little bit like one step forward, two steps back.  For now, it is a game of wait-and-see where the industry goes from here.