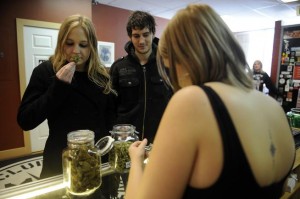 There are so many companies coming forth now saying they have the answers to all of the banking and processing dilemmas that marijuana dispensaries are facing.
The most current solution being offered is the Bitcoin / PotCoin a crypto-currency that will target the medical marijuana dispensaries and the recreational cannabis stores like those located in Colorado and Washington State.
On March 17th 2014 there was an announcement made that two companies Bitcoin ATM Franchise Corporation ("Company") a wholly-owned subsidiary of First Bitcoin Capital Corp. and Bitcoin ATM manufacturer InterWallet, LLC teamed up to supply the medical marijuana dispensaries.  Then on March 3, 2014 Solpower Corporation   filed documents with the state of Nevada changing the name of the company to Bitcoin Collect, Inc. setting it up to be the "premier billing platform for the medical marijuana industry."
Is this really the "Fix" the medical marijuana dispensaries need?
Well there are some very knowledgeable professionals who do not think the Bitcoin is the solution.
Michael Rupkalvis the president of the payment processing firm The Transaction Group said "I would rather bank out of a trash bag in my closet than use the Bitcoin or a Bitcoin ATM".
Rupkalvis has been around the credit card industry for some time now and he has worked with hundreds of dispensaries. He cautions MMU businesses about using digital currency at this time like the Bitcoin, Potcoin or whatever else they can come up with.
Some think there are some benefits while others think there are drawbacks. The drawbacks make you question the "Fix".
Digital currencies can fluctuate like crazy
Bitcoin prices are determined by supply and demand. They have fallen about 50% since November.
Digital currency is not recognized so they are a very big risk.
They are not insured by the U.S government so there is no protection for cannabis businesses or patients if the business goes under.
Digital currency is not something that consumers really use (so far only a few customers use the dispensaries)
Marijuana even in all of its forms is still illegal federally.
Digital currencies can be high jacked.
Digital currencies are very vulnerable to hackers and recently one of the largest Bitcoin exchanges had to file for bankruptcy protection. They had to stop trading virtual currency after they were attacked by hackers who found a glitch in their technology and around half a billion dollars just disappeared.
Currently, executives are questioning whether or not they want to work with the cannabis industry because the ATM operators would still have to rely on a traditional banking infrastructure. The cannabis industry is trying to come out of the shadows of the dark under world and deal openly with the legal system and the legal issues that surround the medical marijuana dispensaries, as well as the cannabis manufacturers.
Is it time for everyone to come to the table and brainstorm solutions on how to effectively use Digital Currencies?
For Marijuana Payment Processing contact us today!