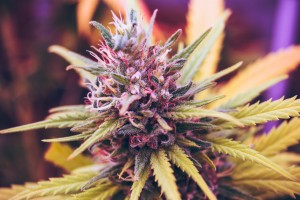 A Denver-based company, Organa Brands, has created the first-ever public services announcement in airport terminals concerning cannabis. One of the largest legal cannabis brands in the country, Organa Brands premiered their ad campaign last month on branded trays at security checkpoints of a major airport in Southern California. The goal of this campaign is to remind passengers about the serious legal repercussions involved in taking cannabis aboard a plane. The PSA reads, "Cannabis is legal, traveling with it is not. Leave in California."
These branded trays are the ones used for stashing shoes, cell phones, wallets and other personal items just before walking through security. For the next twelve months, the trays will appear at Ontario Airport (just outside Los Angeles, California), and are expected to generate around 15 million impressions.
Co-founder of Organa Brands, Jeremy Heidl, is very optimistic about this campaign. "Anytime we can normalize cannabis, I think it's a good thing", he says. "I'm still pinching myself a week into this. It's just unbelievable to me that the TSA was able to sign off on this campaign."
The timing of these new "Cannabis is Legal" ads directly relates to marijuana laws in California. After years of use under medical marijuana laws, recreational cannabis will also be legal in California starting January 1, 2018.
Heidl explained to The Points Guy, "We have long known that California is about to become the biggest recreational cannabis market in the world, and as [one of] the largest brands in the space, we feel a real responsibility to educate consumers. There's obvious confusion surrounding cannabis laws — even the TSA at times has been confused as to these policies."
It is easy to see why there might be some confusion. In most cases, TSA and airport security officials have done very little to inform the public on what is legal and what is not when it comes to bringing cannabis to the airport. In addition, the TSA is a federal agency; the government is still hostile towards marijuana. The Drug Enforcement Administration still categorizes marijuana as a Schedule I substance – just as dangerous as cocaine – with no accepted medical use. These ads are possible because, while the TSA draws the line at political ads, it does not regulate advertising messages that appear in the strays that go through X-ray machines. The hope is that Organa Brand's ads will clear up the confusion shared by many states where pot is legal.
President and CEO of SecurityPoint Media, Joseph T. Ambrefe, Jr., says, "I think this is an example of a company with a good educational message to drive dialogue, and also educate travelers whether you're a California resident or visiting the state."
Is your business trying to prepare for the California recreational marijuana in the coming year? Consider partnering with an alternative lender like Marijuana Merchant Account. Business owners can quickly secure the business funding and payment processing solutions they need to smoothly and securely operate. Have a strong start to 2018 and seize the many opportunities the new year will bring.