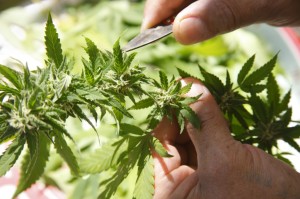 Marijuana is a big tax builder for California, and some new law changes can make it an even bigger tax booster. The tax in Prop 55 is not new, but is an extension of a temporary tax increase approved by voters in the last election when they voted for Prop 30. Prop 55 would extend that tax by 12 years, but only for Californians earning more than $250,000. It's estimated the tax would generate between four and $9 billion a year for public schools, and $2 billion dollars a year for health care for low-income patients.
So, that's good right? Right, but it could be more. And with more legal issues in the way it could be a long road before the numbers are met. However, it can be met with a major blow to another filter-tipped friend: The cigarette. Prop 56 would also help fund the state's Medi-Cal program by hitting cigarette smokers where it hurts most – their wallets. The measure proposes increasing the tax on a pack of cigarettes from 87 cents by $2 to $2.87. So, it could be adding tax revenue to the state and help curb smoking.
But let's be real: It probably will not totally cut out cigarette smoking. The cigarette tax in NYC is over $4, and people still buy them. But, legalized marijuana is a whole other game. Not only is it for those who want a stress reliever, but it is also for those with medical issues who want a natural remedy. And pot seems to be a great natural remedy.
Merchants still need to be careful, because even if these taxes are totally enacted, there will be even more strain on marijuana businesses. You need to make sure that your business is following the state laws, county laws, and city laws as they relate to your business. You also need to make sure that you have a marijuana merchant account provider that understands your industry. This not only can help save your business from violating any laws, but it can help it from losing money from a merchant account provider who doesn't know how your industry works.